Quinnuance presents: Refracting Rituals
27 May 2015 @ 8:00 pm

-

9:45 pm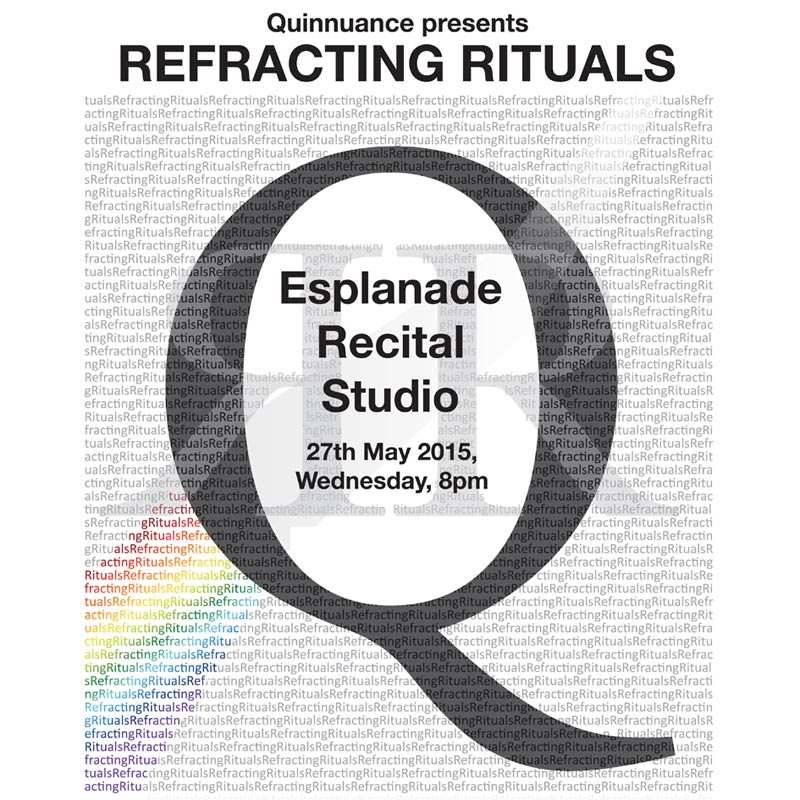 This year, Quinnuance is organising their fourth concert, Refracting Rituals, which will be held at the Esplanade Recital Studio on Wednesday 27th May 2014, 8pm,
See the composers explore various concepts in their music that pertains to the concert title.
Synopsis
ritual [ ˈrɪtʃʊəl ]
a religious or solemn ceremony consisting of a series of actions performed according to a prescribed order.
Rituals are often synonymous with religion and being pious. They consist of a series of actions, performed to a prescribed order. Rituals may be solemn or joyful, long-drawn or brief.
However, the word 'ritual' can take another meaning too: rituals are habits which we have grown accustomed to, such as brushing one's teeth before bedtime or wearing one's left shoe before wearing the right.
refraction [ riˈfrakSHən ]
a scientific term, where light is broken down or deflected as it passes through another medium of a different density.
When one tries to combine both terms, to refract a ritual, and pass it through a thought process so that it comes out different on the other side, what happens?
Join Quinnuance as they ponder upon life..
Ticket Pricing
(Excludes Booking Fee)
Standard: S$25 (Free Seating)
Tickets available at Sistic
About the group
Quinnuance was formed in May 2012 after a successful concert organised by five alumni composers from the Nanyang Academy of Fine Arts (NAFA) – Bernard Lee Kah Hong, Ernest Thio, Lu Heng, Luo Enning and De Silva Alicia Joyce. The name of the group, "Quinnuance" is a combination of two words: "quintet" and "nuance". This combination reflects the number of members in the group as well as their unique individual "shades of sound". The Chinese translation of the group's name, "音原伍韵", also reflects this idea.
The main objective of the group is to promote the compositions of these composers and provide an opportunity for them to work closely with various musicians to develop a general interest towards local original music.
Follow Quinnuance on Facebook